Why Maha Granola?
We keep it simple...We keep it healthy...We keep it real...
WE KEEP IT MAHA (adj: great; unlike others)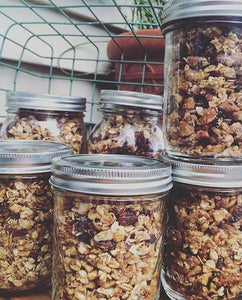 Keepin' it Real
Maha Premium Granola is a unique blend of quality oats, premium nuts and earthy spices. Gluten free and sweetened with local honey from our farm in NJ, makes Maha Premium Granola live up to its name.
(Maha= great; unlike others)
NO refined sugar in this granola!
This delicious granola pares perfectly with yogurt, as a topping on cereal, fruit, oatmeal, and GET THIS..a sweet potato too!
Our company prides itself on making a premium granola, not just a bag of oats! The recipe is a secret.. (shhh)... BUT... there are ONLY nine ingredients AND you can pronounce them easily! We are Keeping' It Real!
More About Maha Granola
Get Your Granola Straight to Your Doorstep!
---